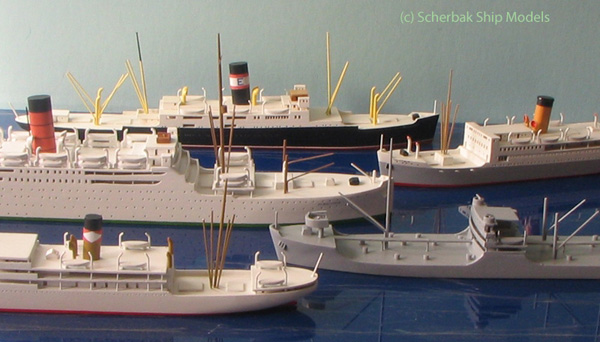 Free shipping to continental US address via FedEx ground. Please add $15 for shipping to Hawaii , Alaska, Canada and $35 for shipping to other countries via air mail. If you want to insure your parcel, please add $2.00 for every $100 of value. We are not responsible for damage or loss without insurance.
ID style waterline wooden models. These 1:600 models are finely handmade in our distinctive style and handfinished in the best old traditions of such firms as Bassett Lowke, Van Ryper, Framburg. We build them in very limited numbers:
AWATEA, Union Steam Ship Company of New Zealand,1936
SARPEDON, Blue Funnel Line, 1923, scale 1:600
MAURETANIA, Cunard Line,1939
FRANCONIA, Cunard Line, 1923
VERAGUA, United Fruit Line,1932
CZAR, Russian American Line, 1912
JEREMIAH O' BRIEN WW2 Liberty ship, scale 1:500
CITY OF PANAMA, Pacific Mail Line,1924,scale 1:600 art model
EMPRESS OF RUSSIA, Canadian Pacific Line,1913, scale 1:900 art model
Look for more ocean liner models in Antique ship models section
FUTURE MODELS - email sansim555@msn.com to be placed on the waiting list, or with your wish list.
CARPATHIA, Cunard Line 1903, scale 1:600
INDEPENDENCE, CONSTITUTION, American Export Lines1951, scale 1:600
ANDREA DORIA, Italian Line,1953, scale 1:600
MANHATTAN, United States Lines, 1932, scale 1:600
More
© 2017 Scherbak Ship Models. All Rights Reserved.
No picture, design or text from this website can be copied and used without written approval of Scherbak Ship Models.