PLEASE VISIT OUR NEW WEBSITE HERE:
Norwegian Star and Norwegian Dawn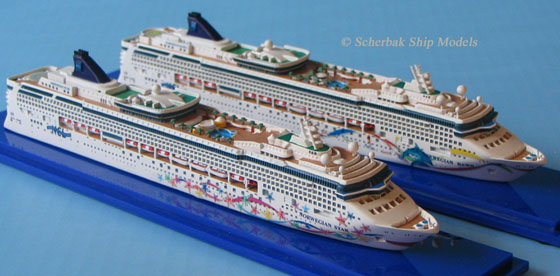 Email for high resolution pictures
NORWEGIAN STAR, 2001

NORWEGIAN DAWN, 2002

Norwegian Jewel subclass (see picture below):

NORWEGIAN JEWEL, 2005

NORWEGIAN PEARL, 2006

NORWEGIAN GEM, 2007

NORWEGIAN JADE, 2006

Our models reflect differences between ships within this class in architecture, pool deck arrangement, deck color, stern restorant windows and hull art.

Scale: 1:1250, Size: model 9 3/16 "(23.4cm), case 11"(28cm).

Visit

ORDERING

section for payment details
Scherbak ship models are the best memos and gifts for Cruise Weddings, Honeymoon Cruises, Anniversary Cruises or any Cruise vacations. They will always bring back memories of your wonderful events at sea.

Our cruise model ships are expertly designed to exact architecture and details, so you can find and mark your balcony or cabin window, or your favorite spot on the ship's deck.
Norwegian Jewel/Pearl/Gem/Jade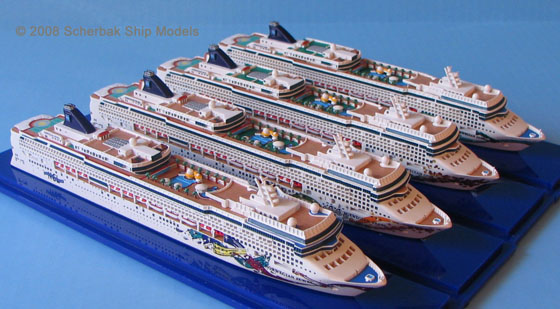 Email for high resolution pictures