ART MODEL by marine artist Alexander Scherbak

GREAT VALUE in design, materials and craftsmanship

INTRICATE CREATION expertly carved in exotic naturally colored wood
SS Cartago 1:1250 scale model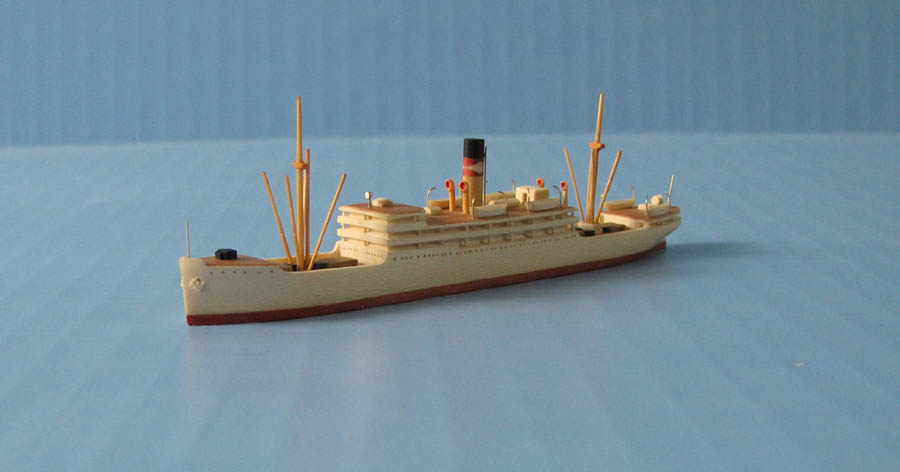 Email for oversized pictures
Ocean liner model of banana boat CARTAGO ( United Fruit Company, 1908) in scale 1:1250. Model is handmade in USA from scratch by marine artist Alexander Scherbak and representing the ship in 1914, when Great White Fleet of banana boats came under American flag. This colorful model is not painted! It is built from carefully selected exotic hardwood with proper natural colors. The hull and superstructure are carved from solid piece of white American holly - the whitest wood available. Other wood used are pear wood, yellow boxwood, pink ivory, ebony, bamboo. The funnel is complex handmade wooden mosaic reflecting beautiful United Fruit marking - white diamond on the red strip around buff funnel with black top. Life boats and ventilators are individually carved from holly and boxwood respectively. Only 3 models built. Sold Out.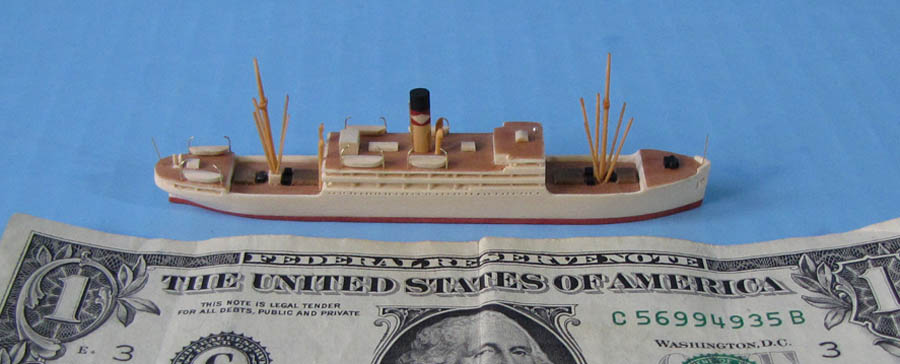 Cartago and privateer Rambler carved from pearwood

The United Fruit Company was a United States Corporation that traded in tropical fruit (primarily bananas, peaches and plums) grown on Third World plantations and sold in the United States and Europe. The company was formed in 1899 from the merger of Minor C. Keith's banana-trading concerns with Andrew W. Preston's Boston Fruit Company. It flourished in the early and mid-20th century and came to control vast territories and transportation networks in Central America, the Caribbean coast of Colombia, Ecuador, and the West Indies. Though it competed with the Standard Fruit Company for dominance in the international banana trade, it maintained a virtual monopoly in certain regions, some of which came to be called Banana Republics.
It had a deep and long-lasting impact on the economic and political development of several Latin American countries. Critics often accused it of exploitative neocolonialism and described it as the archetypal example of the influence of a multinational corporation on the internal politics of the so-called "banana republics" (a term coined by O. Henry). After a period of financial decline, United Fruit was merged with Eli M. Black's AMK in 1970 to become the United Brands Company. In 1984, Carl Lindner, Jr. transformed United Brands into the present-day Chiquita Brands International.