PLEASE VISIT OUR NEW WEBSITE HERE: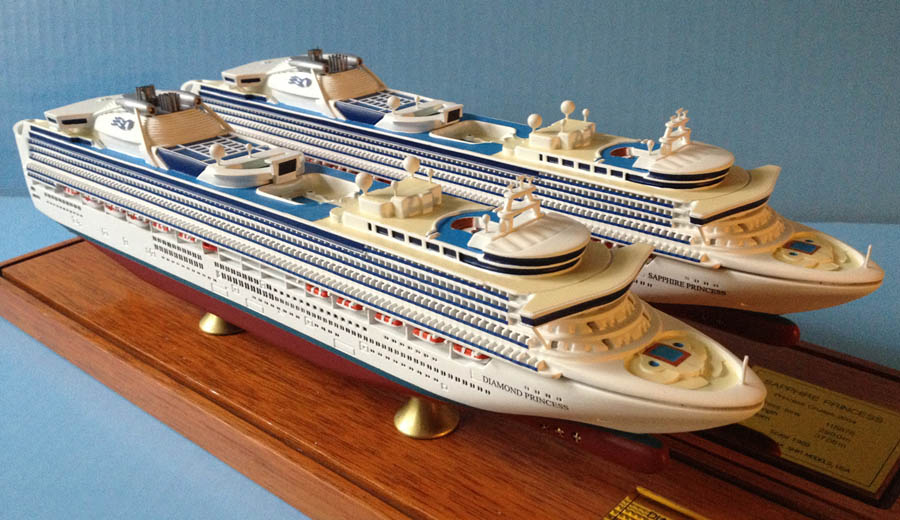 Email for more pictures of Diamond and Sapphire Princess
DIAMOND PRINCESS, 2004
email for new reissue
waiting list
placement.
SAPPHIRE PRINCESS, 2004
email for new reissue
waiting list
placement.
Size: model - 13" (32.3 cm) long , case - 15 1/8" (38.5 cm) long.
If you buy 2 or more models we will refund your quantity discount during the processing of your order.
If you want to pay by check or money order please email your request and shipping location to
sansim555@msn.com
We will respond fast with your total and payment info.
Model Description: Beautiful Display Series full hull cruise ship models in scale 1:900. Expertly designed to exact hull lines, architectural proportions and details, so you can find and mark your balcony or cabin window, or your favorite spot on the ship's deck. Made of cold cast resin, hand assembled, hand painted. Details include recessed windows and balconies, solid brass propellers, movie screen (model without movie screen is optional), life boats, etc. Encased, with wooden base on protective pads, solid brass mountings, name/data plaque and clear high grade acrylic cover.
SCHERBAK ship
models are the best memos of any Cruise Vacation including World Cruise, best gifts for Cruise Wedding, Honeymoon or Anniversary Cruises, Birthday or Christmas.
Sapphire Princess model under clear cover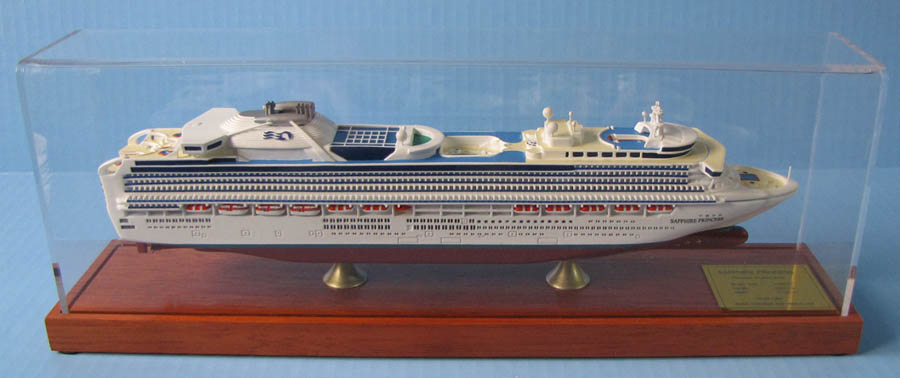 Shown as built- no movie screen (option)
Diamond and Sapphire Princess are further development of Grand Princess-class. Both cruise ships were built in Japan by Mitsubishi heavy Industries. They are similar in size and internal layout to Grand, Golden and Star Princess, but instantly recognizable due to two pods attached to the funnel and different position of night club, moved from far aft position forward, next to the funnel's base.