100 years of Mauretania - Commemorative Edition
Collect all Cunard ship models from Scherbak
Mauretania models with black hull and white hull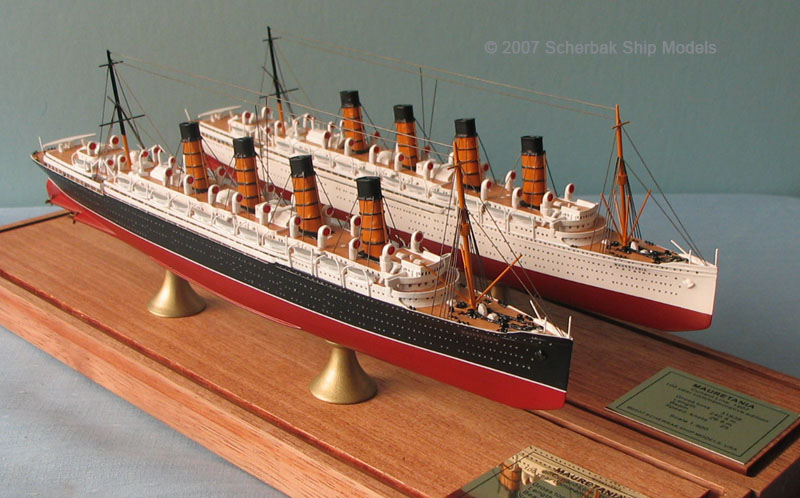 RMS MAURETANIA, 1907. We have only one second hand, model as new condition (1 of only 40 models made back in 2007) - please email for details
Most celebrated ocean liner. Blue Riband holder. Atlantic legend and Cunard's pride. Must have for collectors, maritime historians and ship lovers.
Model represents the ship in her after WW1 appearance, with added life boats. Some models are finished in ship's white cruising livery of 1930s.
Our model is carefully designed to exact hull lines and architecture. Made of cold cast resin, hand assembled, hand painted, with recessed and shadowed windows and portholes, life boats, deck gear, etc. Comes in display case with wooden base on protective pads, solid brass mountings, name/data plaque and clear high grade acrylic cover. Scale 1:900. Size: Model 10.5" (26.8 cm) long, case 13 3/8" ( 34 cm) long.
Visit
ORDERING
section for payment details
If you want to insure your parcel, please add 2% of the total.
We are not responsible for damage or loss without insurance.
HMS Mauretania ship model encased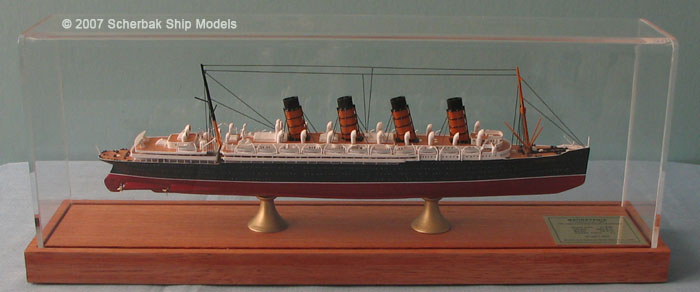 History of ocean liner HMS MAURETANIA

The ocean liner RMS Mauretania was built by Swan, Hunter & Wigham Richardson at Wallsend, Tyne and Wear for the British Cunard Line, and launched on 20 September 1906. At the time, she was the largest and fastest ship in the world. Mauretania became a favorite among the passengers after capturing the Blue Riband for fastest transatlantic crossing during her 1907 inaugural season. Mauretania held the speed record for twenty-two years. The ship's name was taken from an ancient Roman province on the northwest African coast. In 1897 the German liner SS Kaiser Wilhelm der Grosse became the largest and fastest ship in the world. With a speed of 22 knots (41 km/h) she captured the Blue Riband from Cunard Line liners Campania and Lucania. At around the same time American financier J. P. Morgan's International Mercantile Marine Co. was attempting to monopolize the shipping trade, and had already acquired Britain's other major transatlantic line White Star In the face of these threats the Cunard Line was determined to regain the prestige of ocean travel back not only to the company, but also to Great Britain. In 1903 Cunard Line and the British government reached an agreement to build two superliners, the Lusitania and Mauretania with a guaranteed service speed of no less than 24 knots, the British government were to loan £2,600,000 for the construction of Lusitania and Mauretania at an interest rate of 2.75% to be paid back over twenty years with a stipulation that the ships could be converted to Armed Merchant Cruisers if needed. Also to fund these ships further the admiralty arranged for Cunard to be paid an additional £150,000 per year to their mail subsidy.
Design and construction: The Mauretania was designed by Cunard naval architect Leonard Peskett with Swan Hunter working from the plans for an ocean greyhound with a stipulated service speed of twenty four knots in moderate weather for her mail subsidy contract. Peskett's original configuration for the ships in 1903 was a three-funnel design when reciprocating engines were destined to be the powerplant. A giant model of the ships in this configuration appeared in Shipbuilder's magazine. Cunard in 1904 decided to change powerplants to Parson's new turbine technology and Peskett then implemented a fourth funnel to the ships profile as the ships design was again modified before construction of the vessel finally began. In 1906, Mauretania was launched by the Duchess of Roxburghe. At the time of her launch she was the largest moving structure yet built, and slightly larger in gross tonnage than her sister Lusitania. The main visual difference between two ships was that Mauretania had cowl vents and the Lusitania had oil-drum shaped vents. Mauretania also had two extra stages of turbine blades in her forward turbines making her slightly faster than the Lusitania. The Mauretania and Lusitania were the only ships with direct-drive steam turbines to hold the Blue Riband; in later ships, reduction-geared turbines were mainly used. Mauretania's usage of the steam turbine was the largest yet application of the then-new technology, developed by Charles Algernon Parsons. During speed trials, these engines caused significant vibration at high speeds; in response, Mauretania received strengthening members and redesigned propellers before entering service, which reduced vibration.
Mauretania was designed to suit Edwardian tastes, with twenty-eight different types of wood used in her public rooms, along with marble, tapestries, and other furnishings. Wood paneling for her first class public rooms was meticulously carved by three hundred craftsmen from Palestine. The multi-level first class dining saloon was decorated in François I style and topped by a large dome skylight. A series of elevators (rare new feature for liners) were installed next to Mauretania's grand staircase. A new feature was the Verandah Café on the boat deck, where passengers were served beverages in a weather-protected environment.
Early career: Mauretania left Liverpool on her maiden voyage on 16 November 1907 under the command of her first captain, John Pritchard and later that month made record fast eastbound crossing of the Atlantic with an average speed of 23.69 knots (43.87 km/h). In September 1909, the Mauretania captured the Blue Riband for the fastest westbound crossing—a record that was to stand for more than two decades. In December 1910 Mauretania broke loose from her moorings while in the River Mersey and attained damage that caused the cancellation of her special speedy Christmas voyage to New York. In a quick change of events Cunard rescheduled Mauretania's voyage for Lusitania under the command of James Charles (who was future commodore of the line) which had just returned from New York. Lusitania herself completed Christmas crossings for her sister carrying revellers back to New York. In 1912 both King George and Queen Mary were given a special tour of, Mauretania, then Britain's fastest merchant vessel. This further added distinction to the ship's reputation. On 26 January 1914, while Mauretania was in the middle of annual refit in Liverpool, four men were killed and six were injured when a gas cylinder exploded while they were working on one of her steam turbines. The damage was minimal and she returned to service two months later.
World War I:Shortly after Great Britain declared war on Germany on 4 August 1914, Mauretania and Aquitania were requested by the British government to become an armed merchant cruiser but their huge size and massive fuel consumption made them unsuitable for the duty leading to them resuming their civilian service on 11 August. Later, due to lack of passengers crossing the Atlantic, Mauretania was laid up in Liverpool until May 1915, when her sister ship Lusitania was sunk by a German U-boat. Mauretania was about to fill the void left by Lusitania, but she was ordered by the British government to serve as a troopship to carry British troops during the Gallipoli campaign. She avoided becoming prey for German U-boats because of her high speed and the seamanship of her crew. As a troopship, Mauretania received dazzle camouflage, a form of abstract color scheming, in an effort to confuse enemy ships. When combined forces from the British Empire and France began to suffer heavy casualties, Mauretania was ordered to serve as a hospital ship, along with the Cunarder Aquitania and White Star's Britannic. In medical service the vessel was painted white with large red cross emblems surrounding the vessel. Seven months later, Mauretania once again became a troop ship when requisitioned by the Canadian government to carry Canadian troops from Halifax to Liverpool. Her war duty was not yet over when the United States declared war on Germany in 1917 and she carried thousands of American troops, commissioned as HMS Tuberose until the end of the war.
Post-war career: Mauretania returned to civilian service on 21 September 1919. Her busy sailing schedule prevented her from having an extensive overhaul scheduled in 1920. However, in 1921 Cunard Line removed her from service when fire broke out on E-deck and decided to give her much needed overhaul. She returned to the Tyne shipyard of her birth, where her boilers were converted to oil-firing, and returned to service in March 1922; however, it was also noticed by Cunard that Mauretania was still struggling to maintain her service speeds and it was apparent that her once-revolutionary turbines were in desperate need of overhaul. In 1923, a major overhaul was begun in Southampton, involving the dismantling of Mauretania's turbines. Halfway through the overhaul, the shipyard workers went on strike and the work was halted, so Cunard had the ship towed to Cherbourg, where the work was completed at another shipyard. In May 1924, the ship returned to Atlantic service. In 1928 Mauretania was modernized with new interior design. In 1929 her speed record was broken by a German liner, the Bremen with a speed of 28 knots (52 km/h). On 27 August, Cunard permitted the former ocean greyhound to have one final attempt to recapture the record from the newer German liner. She was taken out of service and her engines were modified to produce more power to give a higher service speed; however, this was still not enough. The Bremen represented a new generation of ocean liners that were far more powerful and technologically advanced than the aging Cunarder. Even though Mauretania could not outpace her German rival, the ship did beat her own speed records both eastbound and westbound. The same year Mauretania collided with a train ferry near Robbins Reef Light, fortunately, no one was killed or injured and her damage was quickly repaired. In 1930, with a combination of the Great Depression and newer competitors on the Atlantic run, Mauretania became a dedicated cruise ship, wearing a beautiful white livery. When Cunard Line merged with White Star Line in 1934, Mauretania, along with Olympic, Majestic and other aging ocean liners, were deemed surplus to requirements and withdrawn from service.
Demise: Cunard withdrew Mauretania from service following a final eastward crossing from New York to Southampton in September 1934. The final crossing was made at an average speed of 24 knots (her original contractual speed stipulation for her mail subsidy), and Mauretania was then laid up at Southampton awaiting her fate next to the former one time White Star Line flagship Olympic. This marked the end of her twenty-eight years of service with Cunard. In May 1935 her furnishings and fittings were put up for auction and of the 1st of July that year she departed Southampton for the last time to T.W Wards shipbreakers at Rosyth. One of her former captains, by then retired commodore Sir Arthur Rostron (captain of the RMS Carpathia during the Titanic rescue), came to see her on her final departure from Southampton. Rostron refused to go aboard Mauretania before her final journey, stating that he preferred to remember the ship as when he commanded her. En route to the breakers, Mauretania stopped at her birthplace the Tyne for half an hour, where she drew crowds of sightseers and was boarded by the Lord Mayor of Newcastle. The mayor bid her farewell from the people of Newcastle, and her last captain, A.T. Brown, then resumed his course for Rosyth. The ship passed under the Forth Bridge (for which her masts had to be cut down), and was delivered to the shipbreakers. The demise of the beloved Mauretania was protested by many of her loyal passengers, including President Franklin D. Roosevelt who wrote a private letter arguing against the scrapping.