SS United States and cruise ship Oasis of the Seas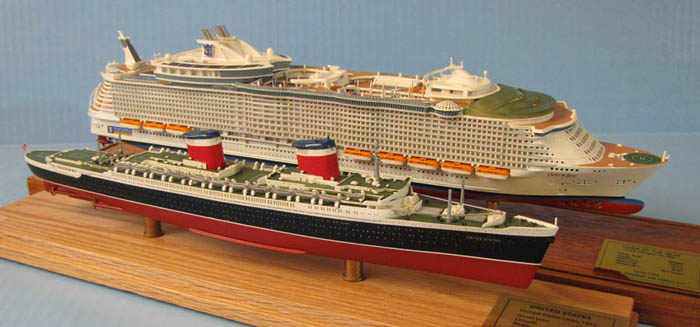 Fastest and Largest passenger ships in History, 1:900 scale
COLLECT OCEAN LINERS
THAT MADE HISTORY
10-14"ship models - not too big, not too small
Beautiful colorful and valuable collectibles.
Expertly designed and made in very small numbers.
Cold cast in heavy resin, hand assembled and hand finished.
Encased: with wooden baseboards, nameplates and acrylic covers.
Free shipping to continental US address via FedEx ground. Please add $15 for shipping to Hawaii , Alaska, Canada and $45 for shipping to Europe, Australia and Asia. If you want to insure your parcel, please add 2% of the total.We are not responsible for damage or loss without insurance.
AVAILABLE OCEAN LINER MODELS - click on the name for picture and price.
FUTURE MODELS - Email sansim555@msn.com for Wait List placement before production starts and get 5% discount.
CARPATHIA, Cunard Line, 1903 100 years of Titanic passengers rescue, commemorative edition
AMERICA , United States Lines 1940
ANDREA DORIA, Italian Line 1953
QUEEN ELIZABETH, Cunard Line 1940
AQUITANIA, Cunard Line, 1914
MAURETANIA, Cunard Line, 1939
BRITANNIC, White Star Line 1930
MANHATTAN 1932, WASHINGTON 1933, United States Lines
MICHELANGELO, RAFFAELLO, Italian Line 1965
ROTTERDAM V, Holland America Line,1959
More to come. Email your wish list.
CRUISE SHIPS section will show you great number of modern model cruise ships made in the same 1:900 scale and style as Scherbak classic Ocean Liners. Visit ANTIQUE MODELS section for period models of classic ocean liners. Also you will find beautiful waterline OCEAN LINER MODELS made of wood in 1:600 scale here: WOODEN MODELS in ID style
© 2017 Scherbak Ship Models. All Rights Reserved.
No picture, design or text from this website can be copied and used without written approval of Scherbak Ship Models.