PLEASE VISIT OUR NEW WEBSITE HERE:
Farewell Edition
The Queen Elizabeth 2, or QE2 as she is commonly known, was the flagship of the Cunard Line for nearly 40 years. QE2 made her maiden voyage in 1969 and was one of the last great Transatlantic liners. At 70,327 tons and 963 feet long with a top speed of 32.5 knots she is also one of the fastest and grandest passenger vessels ever built. QE2 is arguably the most famous liner in the world. QE2 is currently docked permanently in Dubai. QE2 is the world's most loved ocean liner. She spent 35 years as the Cunard flagship and has traveled over 5.6 million nautical miles, more than any other ship; has carried over 2.5 million guests; has completed 25 World Cruises; and has crossed the Atlantic 803 times. QE2 left Cunard fleet in November 2008 to begin her new life in Dubai as a first class hotel and entertainment destination.
.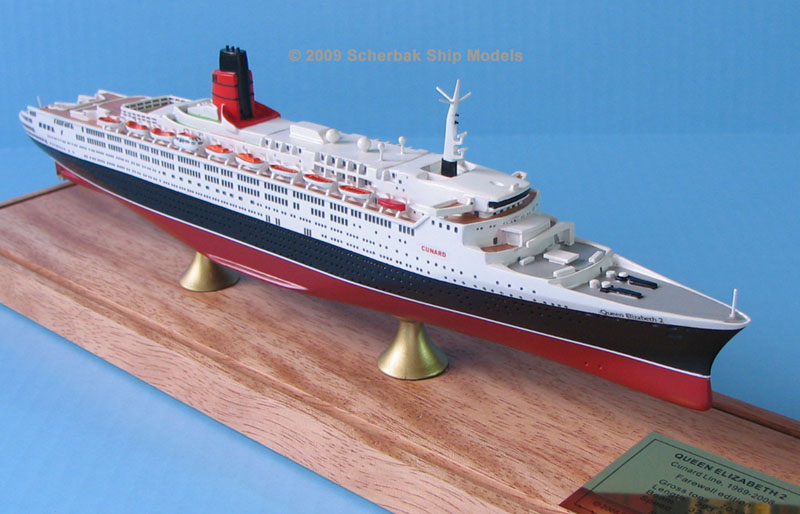 Email for more high resolution pictures
Queen Elizabeth 2, 1969-2008
SOLD OUT - email for new re-issue
waiting list
placement.
'Our model shows the ship during her last years of service. This is beautiful cruise ship / ocean liner model made of cold cast resin, hand assembled, hand painted. Details include recessed windows and balconies, solid brass propellers! Comes in display case with wooden base on protective pads, solid brass mountings, brass name/data plaque and high grade acrylic clear cover.
Size: model - 12 3/4" (32.6cm) long , case -15"( 38cm) long .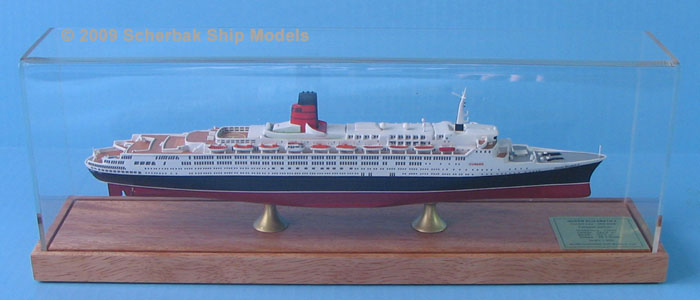 Collect all Cunard ship models from Scherbak