PLEASE VISIT OUR NEW WEBSITE HERE:









Collect cruise ship models from Scherbak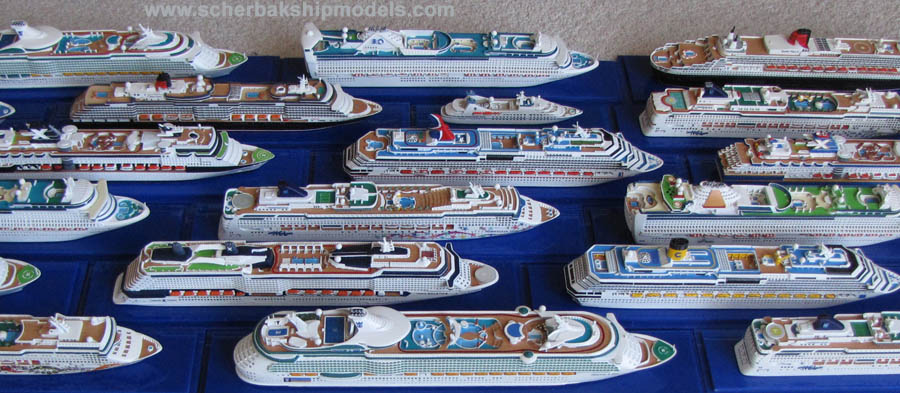 Largest in the World line of detailed waterline cruise ship models in scale 1:1250 made to high quality standard. The same scale as Wiking, Mercator, Albatros, CM, Classic Ship and other modern product, very close to 1:1200 scale of Bassett Lowke, Framburg, Minic, Mercury and other great companies of the past. Best gift idea for

cruise wedding, honeymoon cruise, anniversary cruise, world cruise,

any other event at sea, cruise vacation, birthday or Christmas.
Models are expertly designed to exact ship's architecture and details and reflect differences between sister ships in the class. Made in small quantity of heavy and strong cold cast resin. Hand-assembled, hand-painted and finished by knowledgeable and passionate marine artists. Even close up oversized pictures show how crisp finish is: beautiful paint job including tinted windows, exact laser-cut stickers, delicate decals. All together creates very realistic looking cruise ship miniature. Come in beautiful high grade acrylic display cases. Models are attached to bases by two screws and can be easily separated.
Read about Scherbak Ship Models in June 2012 issue of Model Boats Magazine (UK): http://www.mydigitalmagazine.co.uk/de/2/1418/#/60/
Email for
Wait List
placement before production starts and get 5% discount
Free shipping to continental US address via FedEx ground or USPS Standard Post. Please add $10 for shipping to Hawaii, Alaska, Canada, and $25 for shipping to Europe, Australia and Asia via airmail. If you want to insure your parcel, please add 2% of the total . We are not responsible for damage or loss without insurance. See Oasis of the Seas page for specific shipping cost due to larger size and weight of this model.

AVAILABLE MODELS - click on the name for pictures and info.:
MARINA, 2011
RIVIERA, 2012
REGATTA, 2003
INSIGNIA, 2004
NAUTICA, 2005
AZAMARA CRUISES
AZAMARA JOURNEY 2007
AZAMARA QUEST 2007
P&O CRUISES
VENTURA , 2008
ADONIA, 2011
FUTURE MODELS in 1/1250 scale:
OVATION OF THE SEAS, Royal Caribbean Int. 2016
COSTA FAVOLOSA 2011, COSTA FASCINOSA 2012 (Costa Concordia-class, modified) Costa Cruises ready for production
MSC FANTASIA 2008, SPLENDIDA 2009, DIVINA 2012, PREZIOSA 2013, MSC Cruises Master model 3D priting stage
HARMONY OF THE SEAS, Royal Caribbean Int. 2016
NORWEGIAN BREAKAWAY, NORWEGIAN GETAWAY, NORWEGIAN ESCAPE,

NORWEGIAN BLISS, Norwegian

Cruise Line, 2013/2014/2015/2018

KONINGSDAM 2016, NIEUW STATENDAM 2018 Holland America Line
CARNIVAL VISTA 2016, CARNIVAL HORIZON 2018
STAR PRIDE, STAR BREEZE, STAR LEGEND ( former Seabourn Spirit, Pride and Legend) , Windstar Cruises 2014
ROTTERDAM -class, Holland America Line : Rotterdam 1997, Volendam 1999, Zaandam 2000, Amsterdam 2000
COSTA FORTUNA class: Costa Fortuna 2003, Costa Magica 2004
COSTA LUMINOSA class: Costa Luminosa 2009, Costa Deliziosa 2010
NORWEGIAN SUN, Norwegian Cruise Line, 2000
SILVER SHADOW-class, Silverseas Cruises: Silver Shadow 2000, Silver Whisper, 2001
SILVER SPIRIT, Silversea Cruises 2009
2008, Splendida 2009, Divina 2012, Preziosa 2013
NORWEGIAN EPIC class, Norwegian Epic 2010
JUBILEE, Carnival Cruise Line 1986
CELEBRATION, Carnival Cruise Line 1987
CRYSTAL SIMPHONY, Crystal Cruises 1995
CRYSTAL SERENITY, Crystal Cruises 2003
SEABOURN LEGEND, Seabourn Cruises 1996
CORAL PRINCESS class, Princess Cruises: Coral Princess 2002, Island Princess 2003

MSC MAGNIFICA, MSC Cruises 2010 ,

MSC MERAVIGLIA, MSC Cruises

More