Navigator of the Seas cruise ship model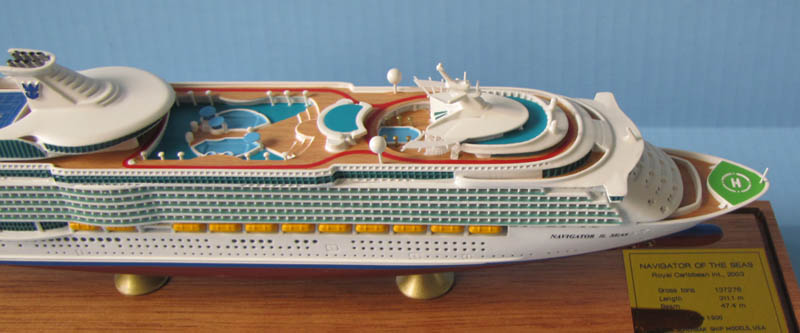 Email for high resolution pictures
Royal Caribbean International cruise ship models:
Scale 1:900. Size: model - 13 5/8" (34.6 cm), case - 15 1/2" (39.5 cm)
VOYAGER OF THE SEAS, 1999 SOLD OUT
EXPLORER OF THE SEAS, 2000 SOLD OUT
ADVENTURE OF THE SEAS, 2001 SOLD OUT
Ships with different design of balconies:
NAVIGATOR OF THE SEAS, 2003 SOLD OUT
MARINER OF THE SEAS, 2004 SOLD OUT
If you buy 2 or more models we will refund your
quantity discount
during the processing of your order.
If you want to pay by check or money order please email your request and shipping location to
sansim555@msn.com
We will respond fast with your total and payment info.
Model Description: Beautiful Display Series full hull cruise ship models in scale 1:900. Expertly designed to exact hull lines, architectural proportions and details, so you can find and mark your balcony or cabin window, or your favorite spot on the ship's deck. Made of cold cast resin, hand assembled, hand painted. Details include recessed windows and balconies, solid brass propellers, life boats, deck gear. Encased, with wooden base on protective pads, solid brass mountings, name/data plaque and clear high grade acrylic cover.
SCHERBAK

models are the best memos of any Cruise Vacation, best gifts for Cruise Wedding, Honeymoon or Anniversary Cruises.
Voyager of the Seas cruise ship model encased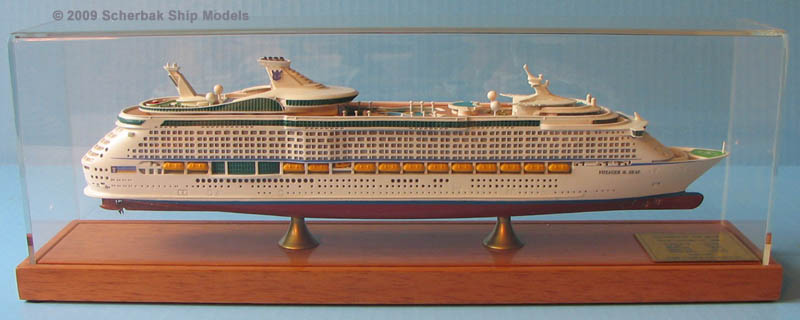 Navigator of the Seas cruise ship model encased

Voyager of the Seas - class cruise ships.
The 138,000-ton, 3114-guest Voyager of the Seas became the world's largest cruise ship when it entered service in November 1999. Innovations on this and other Voyager-class ships add up to more space for every guest, and include enhanced staterooms, expanded dining options and exceptional recreational facilities as an ice-skating arena, the Royal Promenade and a rock-climbing wall. Voyager of the Seas, Explorer of the Seas and Adventure of the Seas are identical sister ships. Navigator of the Seas and Mariner of the Seas cruise ships are further development of this class. Although they are alike in size and shape, they represent different takes on the Voyager-class ships for Royal Caribbean International. When Navigator of the Seas, introduced in December 2002, is docked opposite Voyager of the Seas, the design changes become very clear. Navigator and Mariner have more glass than the Voyager, letting in far more light and giving ship's profile a much more open look. Another very visible change to the exterior is the balconies extended out from the ship's superstructure, far more expansive in appearance, with the load bearing function transferred to the stateroom walls.